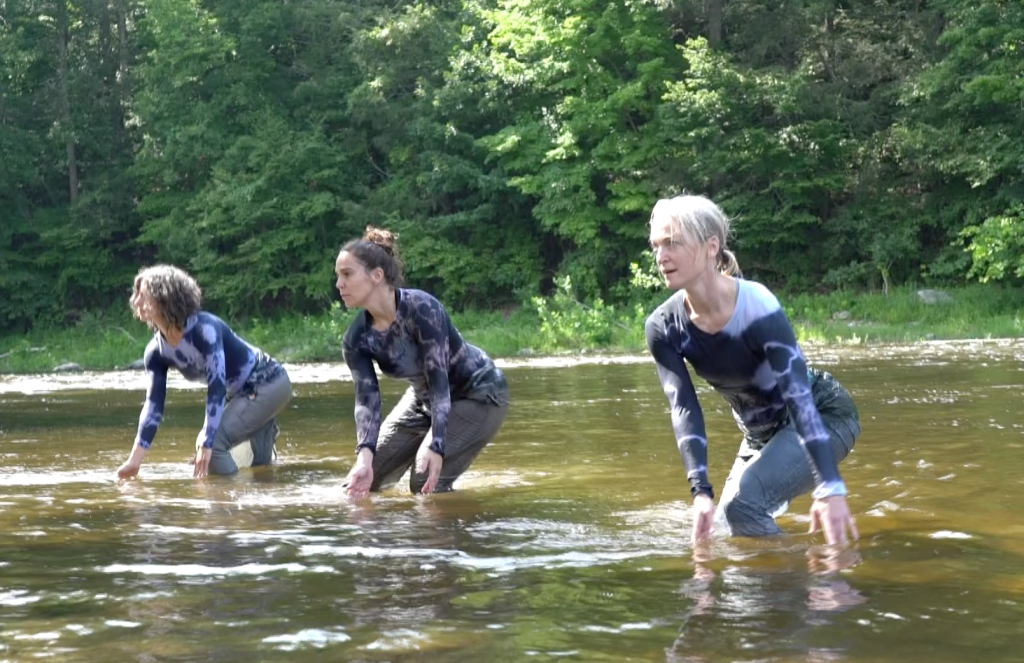 On Saturday, during one of our last rehearsals for River/Body, Cole, a young student from the Marvelwood School asked us two wonderful questions.  Cole is part of a team of young videographers working with their teacher, Ben Willis to create a documentary about the making of the dance.
First, he wanted to know if we had ever considered bringing something unexpected – an object, a surprising prop – into our performance.  He observed that the scarves we manipulate are wave and water-like, but wanted to know about something "outside the box"." Dillon, one of the dancers, loved the idea and said, "Like what?  A refrigerator?"  We all tried to think what those unexpected things might be and how that would change the performance. Actually, I think Cole just gave us an inspiration for the next iteration of River/Body.
Secondly, he wanted to know if we had ever done any kind of 'nature-art situation" before. So we shared with him our exprience of dancing with horses.  To me, dancing the river is similar in many ways to the equine dances.  We are entering and communicating with a different physicality.  Riding the currents of that different body.  Enngaging with the body-mind of that other being.  And yes, we see and feel the river is a being.
On Sunday we had to make a firm decision about whether to perform in a river that had become so high and fast running that we could not safely dance with her.  I have known horses like that.  It is important to know the limits.  It is disappointing not to dance in the Shepaug, but we were also happy to return to the beautiful Housatonic and know that all of our performances would be held kindly by her watery body.
UPDATE: all performances will take place at North Kent Road, Kent, CT
August 18 & 19 and August 25 & 26 will be performed at the river access at North Kent Road, Kent, CT.  We are limiting attendance to protect the site and work within the concerns of the town, so you will neeed to reserve your FREE ticket HERE.
Please join us.  We have made something beautiful, something surprising, something moving.
Thank you to Housatonic Heritage, Housatonic Valley Association, Berkshire Taconic Foundation and our loving individual donors
See you at the river!