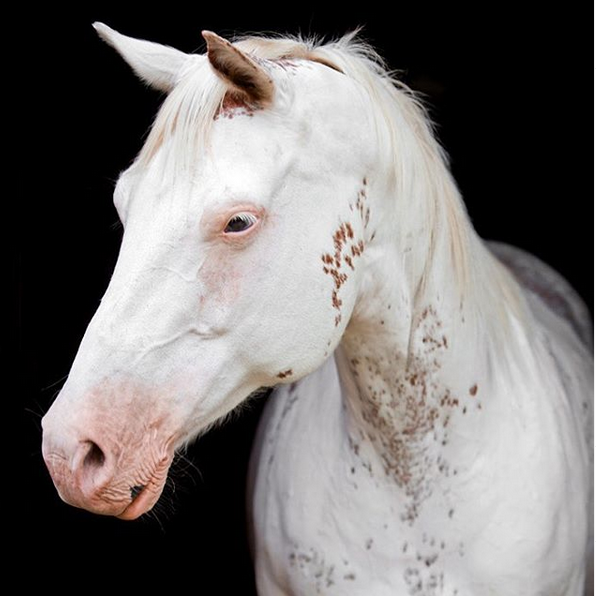 This is Mystical Mel, a Paint mare whose registered name is Mystical Finale. According to the description on The Mane Intent website, "her markings would suggest she is Medicine Hat Paint. The myth and mystery of the Medicine Hat Paint goes back many years. But it is known as a spirit animal with special powers, and is very rare.  Like many Medicine Hat Paints, Mel has a pink muzzle and two blue eyes, making her especially prized."
Mel was our partner for the last part of the Expanding Body, Mind and Spirit wth Horses workshop that I recently taught at The Mane Intent.  Mel has a kind of light, floating attention that I find unusual – some confluence of her color, her mare-ness, and ethereal blue eyes.  Her presence feels expansive, yet vigilant and quietly discerning.
We entered the round pen with her two at a time, and let the experience of moving with her unfold in its own way, inviting her to connect in her own time.  The last dance was three humans and Mel.  One of the humans began to sing softly, as they linked arms, facing away from those of uis witnessing, and toward Mel. She approached slowly and then moved carefully into the circle of their bodies, looking at them and toward us with those astonishing eyes. The song ended and horse and humans moved slowly apart.
This work is always surprising, always moving – an experience that is beyond words – one that lives in the deep possibilities that live in our wordless connection with horses. The invitation to join is offered without limitation or expectation.  For us, the greatest gift is simply to breathe and to be in the presence of that embodied mystery.