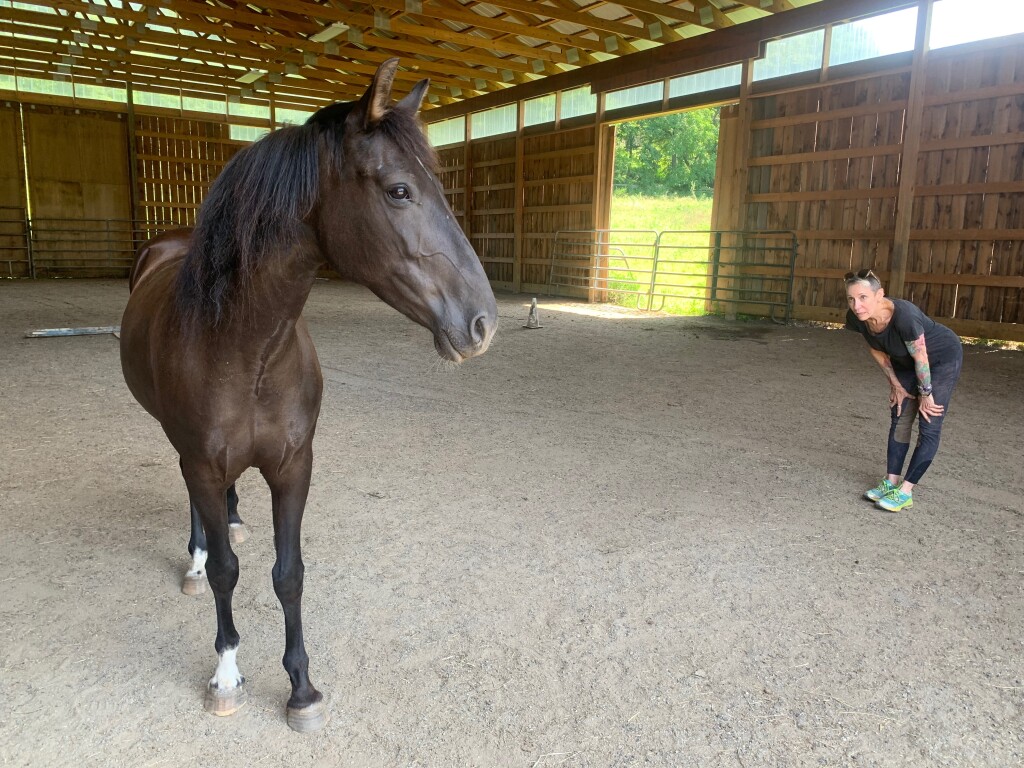 Izarra is a Mustang mare that has stepped into my life.  Last September I was at Little Brook Farm shooting video for my forthcoming film:  Conscious Touch, Conscious Movement with Horses, with the wonderful Summer Brennan, dancer Aislinn MacMaster, and videographer Ben Willis.
While there, I walked past a paddock and in the run-in shed stood Hamlet, a handsome chestnut gelding of uncertain bloodline, and with him, a small dark horse.  "Who is that," I asked Summer.  "That's Izarra", and then, "You should adopt her."    Oh dear.
Izarra is fast, herd-bound, and very, very smart.  She has never had a person of her own. She has never had any particular training. She was culled by the BLM from a herd of wild horses in Nevada.  Little Brook Farm Sanctuary got a call from a person in South Carolina, where Izarra had been adopted, and for reasons that are not clear, was now headed for a slaughter auction. (Click on the BLM link to see what they are doing in their cruel round-ups of wild horses.  The intention is to free land for ranchers and cattle grazing – both far more destructive to the land than the horses!)  LBF drove down to rescue her, and she has been with them for the past six years.
Over the past couple of months, I have started working with her.  We are doing only groundwork – no lead rope, bridle or saddle- which is most exciting to me at this time.  She is a little dancer, and quite interested in seeing and picking up movement cues from me. Next month, she will move to a stable near me, and we can get to know each other in earnest.
More Izarra news to follow.  In the meantime, here she is in all her spicy glory!