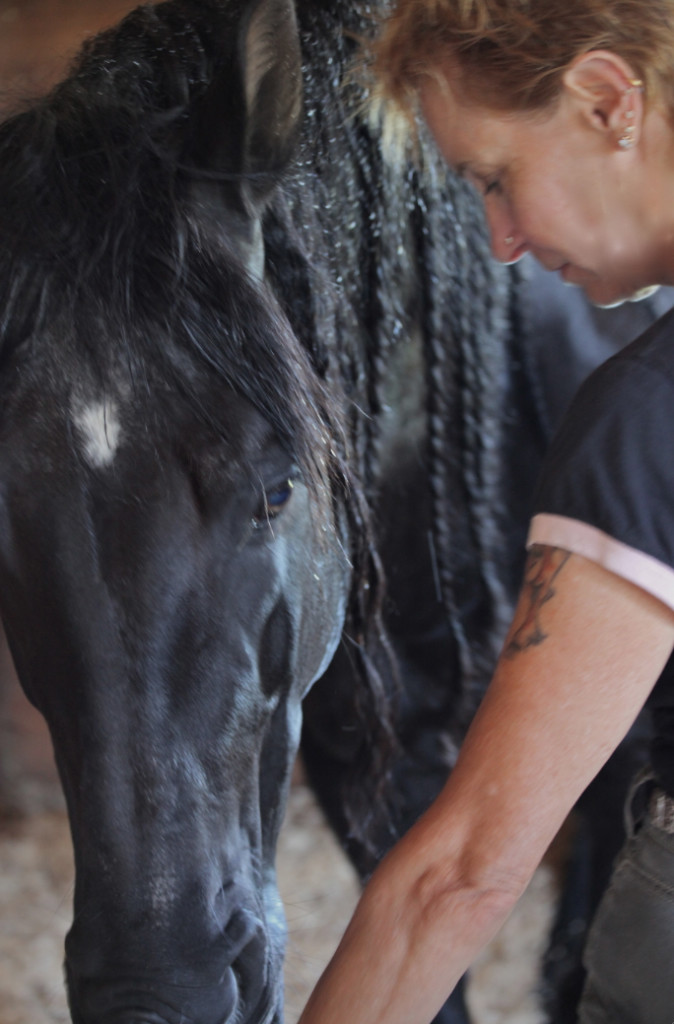 The other day, after our ride, my lovely 24-year old stallion, Capprichio, surprised me.  Capprichio is not a horse that you can touch casually.  He is often standoffish, a little cranky, extremely specific, and private.  Early on in our relationship he suddenly, efficiently and unexpectedly removed a diamond stud from my ear with his teeth and swalowed it.  I think he was putting me on notice.  I respect him, his space, which does not keep me from continuing to look for openings, to find that lovely touch that he will enjoy.
So the other day, after his shower, I began by finger combing his mane which is huge and thick and long (he is an Andalusian), falling from a massive crest.  He began to settle, drop his head, his eyes closing – a little dreamy.  So I kept going. Thirty minutes or so later (horse time is so very unpredictable), I stopped and began to leave his stall. I lingered in the door for a moment and he moved toward me – very clearly, "not yet".  I put out my hand. He placed his nose on the back of my hand.  And stayed there.  For another maybe thirty minutes.  Little soft strokes, breathing, just letting go of time, or doing anything but being. He was leading, guiding.
Reciprocity –  being touched by what you are touching. It is so very hard for us humans to remember that  – to receive, to allow, to follow.  Capprichio is a Zen master. We have been together for over ten years, and perhaps I have just now become ready for this lesson.  Thank you, most beautiful.
Save
Save
Save
Save
Save
Save
Save